These sample rooms offer some beautiful ideas for displaying your session images. While the all-inclusive & mini sessions include your digital images on flash drive, I  highly recommend purchasing prints through me if you plan to display them for long.
"Why do you recommend purchasing prints through the photographer vs printing everything on my own?"
Quality Control

–

Your prints will be sized and sharpened exactly as needed for the size you desire to decorate your space. If there is a mistake at the lab, I will correct it vs you having to take care of an incorrect printing  at a lab. Large prints especially need to be sharpened and prepared for printing so that the print looks its absolute best for it's display.

The prints I am able to have created are top-quality linen paper with accurate color and thick paper (linen paper is not matte or glossy, but it's own unique paper. It is gorgeous!)

Your mounted prints are printed on lightweight, but strong, gatorboard so that your prints will not become wavy with humidity changes through the year or warp. Once your prints arrive all you will  need to do is have your print matted/framed (even at a craft store such as Hobby Lobby). Though a greater investment, canvases come ready to hang!
Simplicity
Most of you either have a newborn or  young children … and you're busy! While the flash drive is awesome to archive and be able to make fun presents and short-term displays, it does take time to prepare and crop and order your prints. I'm happy to provide you with this service and deliver a beautiful product right to your door.
*These wall designs can simply be swapped between any of the rooms very easily.   If you have any detailed questions on sizes or would like to see any specifics before ordering prints, please let me know. I am happy to assist you in designing your area!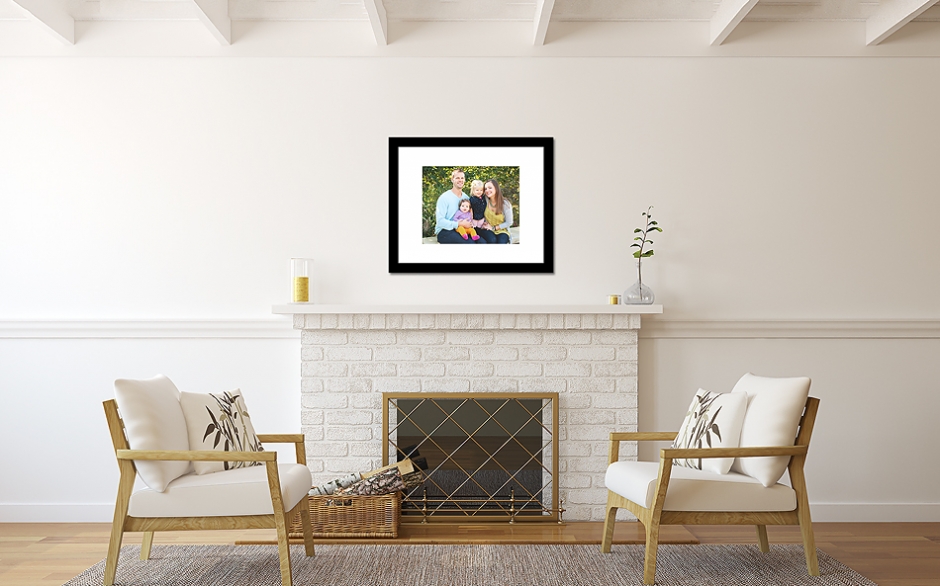 Fireplace with Framed 16×20 print
* Print available in  Collections 1 and 2 or A La Carte
Nursery with (1) framed 16×20 and (4) framed 5×7's
* Available in Collection 1 and 2,  and A la Carte


Living room including 20×24 and (4) 8×10's
* 20×24 available in Collection 1 and A La Carte. 8×10's available in any collection and A La Carte


Bedroom including (3) 11×14 mounted prints
*Available in Collections 1, 2, and 3  and A La Carte


Sideboard including
(4) 8×10's (with 11×14 mats) and (4) 5×7's (with 8×10 mats)
* Available partially (5 of any combination 8×10 or smaller) in all Collections and A La Carte


Diningroom with 20×30 framed print
*20X24  in Collection 1, 20×30 available A La Carte