Hello!
Need some time to think before booking? I completely understand. Click the 'Contact' link above or email at jill@jillvelicer.com and let me know what's on your mind. I'll reply back with answers to any questions, detailed pricing on Collections and A la Carte items, and even a sample gallery to view if you'd like!
Thank you! I look forward to having the opportunity to serve you in this wonderful time!
With gratitude, Jill
p.s. I am VERY timely with replies, so if you do not hear back from me within 1-2 days, please call me or try again (in case spam mail has taken your message hostage). 262-689-4593
EXPERIENCE
I have been photographing newborns, babies and families for over 3 years now. I am calm and confident with newborns and babies. Safety is of utmost concern with your precious newborn and baby. We take breaks for meeting your baby's needs. My style is natural and relaxed, so your session is as well. New parents especially love that I come to the home. You are able to remain relaxed in your own home. Let me bring everything to you and you work on enjoying your new baby (and hopefully a nap or two).
I am very careful to find the best light, angle and moment to capture your images. Your happiness with the session, images and quality of products is of utmost concern to me.
INVESTMENT
***Please note that digital images are on USB flashdrives as of 2013. You may want to understand how important this is and how this benefits you as the customer on this blog post about flashdrives.
Check and Paypal accepted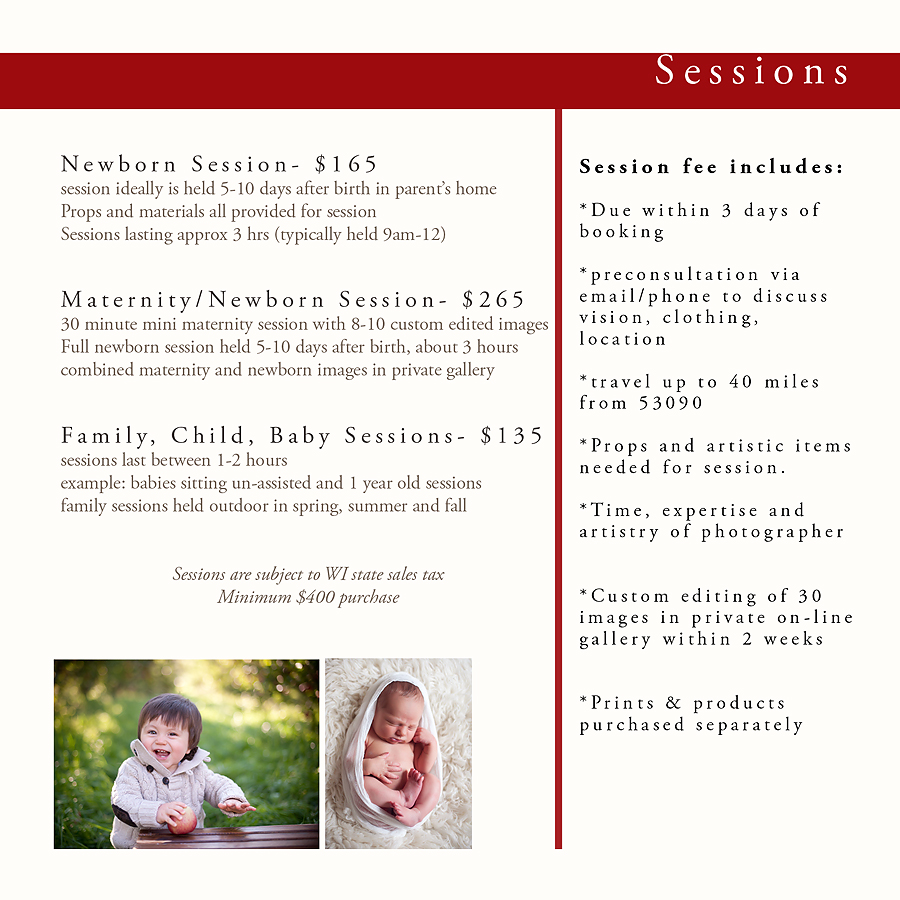 Prints, products and digital files are purchased separately.
Minimum order requirement of $400 of prints/products (aside from session fee).
Families generally anticipate investing $550 or more on their print/product purchases.
Portrait Collections are designed to offer families significant savings over a la carte pricing.
Please contact me for detailed rates.
Thank you!
REVIEWS
The newborn session with Jill turned out so great! Our precious little boy's personality and sweet character was captured so perfectly. Thank you for taking your time with the baby and being so patient with him… You really do have a way with babies! Mary and Bobby, and Baby Bobby
My sesson was perfect. I was nervous to have a complete stranger in our home and wondered how Autumn would react to you but you came in and it felt like I was greeting an old friend. The moment you walked into our home I was at ease. You made eveything so easy! I loved that you brought samples of your product as well so I could see the quality of the images before ordering. I love our images! You have a special gift with Children!
I just wanted to send you a note & let you know how many compliments we've received on Hadley's birth announcement. I've heard countless times that it's such a beautiful picture that it has brought tears! What a compliment to your work. Take Care, Leigh
I cannot speak highly enough of Jill's work!  From communication prior to booking, to the pre-shoot consultation, to the day of the shoot and ordering process, Jill was kind, thorough, detailed, prompt, and creative.  She really took the time to accommodate what we were looking for.  We enjoyed the shoot; it felt relaxed and comfortable.  We are so happy with the images that were captured of our sweet little one in her first days of life.  To us it was a splurge, but absolutely worth the investment!   ~ Gina
Our session with Jill went wonderfully, despite it being an "off" day for our 1-year-old. She was patient and managed to catch dozens of moments that, in the gallery a few days later, you'd look at and never know it wasn't an easy morning! We were very comfortable at the entire session, and Jill was flexible and willing to improvise whenever our little guy threw a curve ball. We were very happy with how all the photos turned out, and the presentation of the finished products was beautiful.
Thanks for taking the time to drop everything off.  We just both had a chance to look everything over, and the pictures are beautiful. The quality is remarkable.  Your presentation is very well done!  We couldn't be happier with the end result.  We will be in touch again in the future with any photography needs, and hopefully you will hear from some friends and family when they need a photographer. You were wonderful to work with, and we hope you have a great summer! Thanks again, Jessica and Kyle
We loved having Jill in our home, which made the shoot easy, comfortable and really, quite a pleasure. Jill's calm demeanor put all of us at ease. She was so well prepared with extra everything and items to ensure the photos of each of our children were perfect. Lovely, lovely portraits. I never could have captured either of them as well. I am so glad we did this.
When the photos arrived they were packaged beautifully and just as we ordered. There were no hassles at all!
Highly recommend Jill!
Jill did a fantastic job with our newborn session. Looking back on the three months since our baby was born, we are so greatful to have captured those precious moments at only a week old (they go so fast). We enjoyed the entire experience from the pre-session consultation and photo shoot to the viewing and ordering of our prints.  Jill is a true professional and demonstrates her love for photography throughout the process. We couldn't be happier with our prints and will cherish them forever. Thank you!
"THANK YOU THANK YOU THANK YOU!!!!!!  We LOVE the pictures!  You did such an amazing job!!!  We are soooo blessed to have found you!  We are even more excited for our baby to arrive and to see more of your wonderful work!.  Words cannot express how grateful we are!  You have an amazing talent!  Thanks again!!!"
"Hi Jill. Got the package today and we are SO THRILLED! We especially LOVED the album, it turned out SO FABULOUS, you not only did an amazing job on the photos but also on the layout, it just looks amazing! Thank you so much. I love the cards and then keepsake box is adorable. I love the pictures of Dan holding Lucia — turned out so great!!!!! It was worth doing, and I am so glad you came back for it!!!!!!!!!! You should see how she looks now, much chubbier! Bless you and your family and thank you so much again. Dan was so happy to have done the photo shoot with you. ~ Claudia"
"Jill did such an amazing job on our sons newborn photos. She has such a calm presence about her that was reflected onto our son while taking the pictures, it was such a great session. The pictures are so simple and perfect. When we shared the pictures with our family and friends it brought tears to their eyes as well as ours. They are pictures we will have forever and cherish! Thanks so much."
Patient, Kind, Amazing talent! This was our second session with Jill Velicer Photography over this past year. I can honestly say I've LOVED every photo in each session. The way she utilizes natural settings and lighting makes for outstanding art. What she creates is ART in every sense of the word. She's an amazing photographer with REAL talent!

" My husband and I couldn't be happier with the newborn photographs of our baby girl! Jill's photography style perfectly captures this precious time in her life, and we will cherish these photographs for years to come. Jill is great to work with, amazing with babies, and we really appreciated her ability to travel to our home for the photo shoot. Thank you Jill!
"Jill did an amazing job on the newborn photos of our baby girl. She has AMAZING patience and truly has an eye for unique and beautiful photos. I couldn't be happier with how they all turned out. It was VERY difficult to choose from all the amazing shots. Even with our daughter less than 2 weeks old, she was able to catch her personality! Thank you Jill for helping us capture this significant time!"
"I will be recommending Jill to all my future mommy friends! She has an amazing eye and was so very patient and warm to our little man. The pictures could not have turned out any better. It was very difficult to choose from all of her amazing shots! Thanks again Jill!"
"Everything looks wonderful! Thank you so much for all your time and effort to make sure we are happy."
"Jill- you even captured her true eye color, which isn't as dark as it appears to be and usually show up dark brown in other pictures!!!! i am so impressed with these!!! and thank you for the compliment:) YOU ARE AWESOME!!! i simply love the softness, colors, the scenery- you did an outstanding job."
"Not only is Jill a great photographer, she is a very calm presence and can make you feel really comfortable. She knows what she is doing and has a great eye. Totally worth the investment – if you want great artwork on your walls and captured memories of a lifetime, she is the one for you. "
"This photographer is amazing at capturing everything you could ever want and more! She is patient and very professional and just the person you want taking your pictures. She has fun with it, and the results are OUTSTANDING! Pictures you will be proud to display forever!
Everything has arrived and it looks wonderful! We are so excited to have these beautiful pictures to look back on this far to brief time in his lifeAlready we can compare him to them and see how much he has changed! Thank you so much!
Jill specializes in
infant photography
, as well as a pregnancy/maternity, birth, newborn, baby and family photographer serving the Greater Milwaukee area.