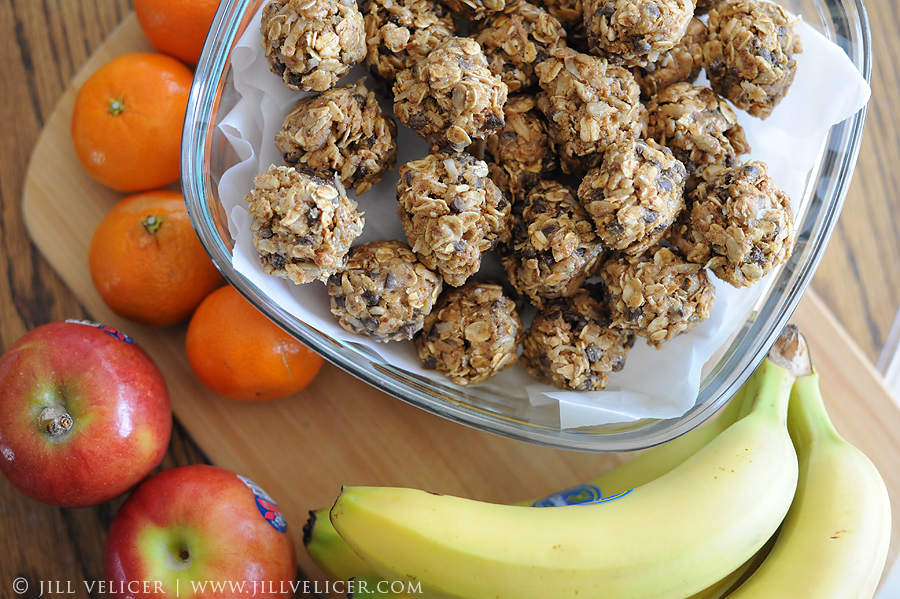 My kids love these … actually I love them too. A good friend of mine with 5 children shared this recipe with me. We're both partial to organic whole foods that taste really great

Keeps the  kids happier and much much healthier.
Since many of you are mommy's with children I wanted to share with you an easy recipe that you can feel good about feeding your kids. And chances are they'll gobble them right up! This is also a great snack for breastfeeding moms and  moms who are busy with a baby and barely have time to eat too. If you have the ingredients (and it's a really flexible recipe), it takes only about 10 min to toast the oats, and about 5-10 min to measure it out and mix it up!
Energy Balls (or the recipe says, All natural, No-bake energy bites)
-makes approximately 2 dozen depending on size (I triple the recipe for my family)
 1/2 C. nut butter (almond butter, peanut butter, sunflower seed butter or any other nut or seed butter. Anything will work here)
1/3 C. honey (locally bought honey has more health benefits than store processed mass-distributed honey… my Dad is a beekeeper, so we've got a good deal here)
1 C. old fashioned rolled oats (you can toast for a nuttier flavor at 350 degrees for about 10 min… I recommend this)
1 C. shredded unsweetened coconut (you can substitute any dry ingredients for this, wheat germ or bran, oat bran, some ground flax seed, any kind of ground nuts or seeds. For a cookie dough texture type bite try adding a few TBSP of your favorite whole grain flour)
1-2 tsp vanilla
pinch sea salt
1-2 tsp of your favorite spices or spice combinations (optional… such as cinnamon, etc)
1/2 C. other addins (any kind of whole or roughly chopped nuts or seeds, dried fruit, good quality choc chips, etc)
In a large bowl add the nut butter, honey, vanilla and salt. Use less vanilla if yours is very strong or more if you enjoy the vanilla flavor. Don't buy the alcohol based kind. If all your ingredients are at room temp you should be able to stir to combine. If this is difficult you can warm by setting the bowl in an inch or two of hot water for a few minutes. Once this is combined, add the remaining ingredients.
Once it is all combined, place in the fridge for about 30 minutes. Then remove from the fridge, scoop out some 'dough' and form into a ball.
If yours are too sticky you can consider adding more dry ingredients into them or rolling them in something like ground nuts, coconut, etc so they aren't as sticky. Place balls in an airtight container either in the fridge or the freeser for a quick and easy snack.
recipe from: food doodles.com
______________________________________________________________________
The batch I made in the photo was tripled for our family of 5:
1 1/2 c Peanut butter
1 C. honey
3 C rolled oats (toasted in the oven for 10 min at 350)
1 C coconut
1 C. ground flax seed
1 C. sunflower seeds
salt, vanilla and mini choc chips
REALLY yummy! As soon as I'm finished with this post, I'm going to go grab another and snuggle in with a good book while the house is quiet and everyone is asleep for the night! Enjoy!