* This is a personal blog series about my time in Ethiopia. Some photos are snapshots and are included to tell the story. If you are looking  to view newborn, baby or family posts, please see the drop-down 'Galleries' on the toolbar above. Thank you!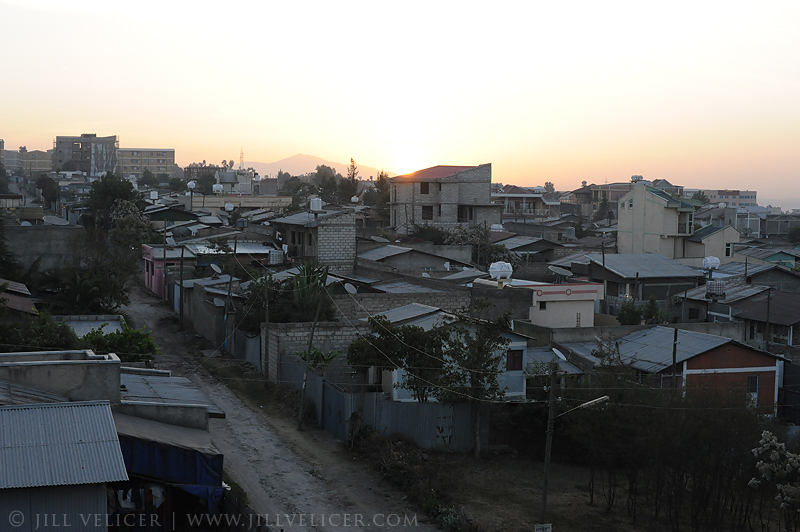 Friday morning I wake up very very early… maybe it's still dark? I can hear the muslim call to prayer through their speakers in the city. Throughout the next week we'll hear the muslim prayers and Orthodox prayers duel it out. It's kind of loud and bit difficult to go back to sleep. After an hour or so of being restless I wake up and remember there is a little kitchen off of our bedroom with a window. My roommates are still sleeping and it's a couple hours until breakfast. I normally read my bible and pray at night when the house is quiet, but since that didn't happen last night, I decide to spend that time this morning. I climb up on the kitchen countertop and open the window and listen to the sounds of Addis Ababa waking up. The birds trill and I see men stretching and preparing for a run (ethiopians are good runners, ya know..

). I see some people walking outside and slowly the sun peeks over the mountain in the distance. I see two people holding the hands of a child who appears to have, perhaps, cerebral palsy or some difficulty coordinating her walking. I read a bit, pray, take some ipod videos & photograph. It's surreal to believe I am in Africa. Very surreal.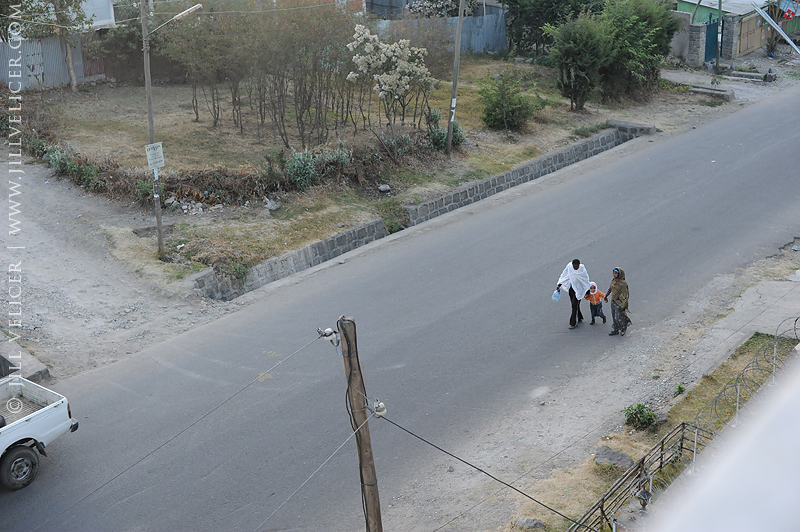 *the view from the back of our guest home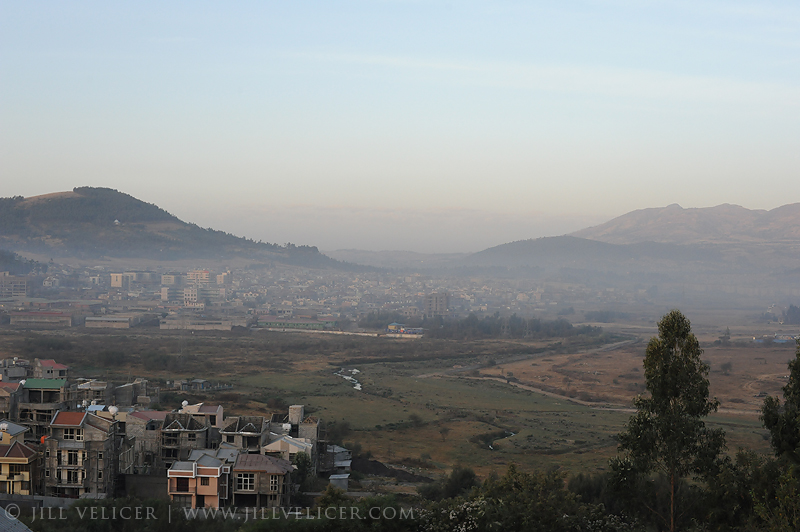 As our house wakes up we coordinate washing and getting ready with 13 women. We're nice and civilized ;). Breakfast is served at about 7:30 – scrambled eggs and bread, I believe. Our cook is fabulous and makes us american food. Ethiopians tend to basically eat one main dish, Enjura. A fermented flat bread that is used to wrap bits of meat or other items (dual purpose utensil and food). We'll be tasting it in a couple days, but it is an acquired taste. I'm honestly quite a picky eater, so I was happy with our cook. Once we're ready we climb into our two vans. We have 2 drivers and our translator, Aki, to take us to Korah. Korah is a village within Addis Ababa that was initially started as a place to send people with Leprosy. It has since become an outcast village with estimates of 130,000 people and orphans living in extreme poverty and many suffering with major medical issues – Aids, Leprosy, Tuberculosis, and much more. Some people make a living by searching through the garbage dump and reselling items or using the items/food they find. A google search about Korah will bring many videos, blogs and mission groups.



*Aki patiently answering our endless questions…


*entering Korah … children know to run to the vans


As soon as we park the vans and get out we're greeted by the warm African sun and many many children rushing us for hugs. Little toddlers raise their arms inviting us to quickly gather them in our arms and snuggle them. Children slip their hands into yours and stand patiently next to you. Little faces smile. Older children and teens help translate as many of the children now are able to learn english through frequent visitors and also if their lucky enough to have been able to attend some school. After some hugs and greetings we walk into a little room to listen to a couple men from Korah and also a woman named Summer who came to Korah following her call from God to begin a school for children – I believe she coordinates funding and care for about 250 children? Two men speak about growing up in Korah and how difficult it is. And how with God and people standing up to help the impoverished, their lives are changed. But there are many more who need help.
* a painting on the wall inside the meeting room


After we listen, we get to rejoin the children. A couple 14 year olds (?) wave me over and we talk a little bit. They are really helpful translating the younger children's Amharik to English for me. At one point I thought it would be neat to show them the Starfall app on my ipod. These kids are SO smart. They knew the alphabet and could count to 10. After a bit I was slowly being crushed by the kids clamboring for their turn to swipe the ipod screen and one of my team members (which we call each other 'sole sisters'

) rescues me. Last time I bring out my ipod. ha!
*Adrianne and a smart young lady in Korah


* my friend Adrianne and some kids we were talking with. The eldest boy explained that God told him he will be a Pastor when he grows up. I believe it!


* our team outside Great Hope Church (the green metal wall to the right is the church) visiting with the children. Last year during the washing of feet, measuring and giving shoes to the people of Korah, the team witnessed a miracle as God literally multiplied the shoes to meet the need.
The ladies explained they got goosebumps as they realized what happened. We had a miracle later in the trip… stay tuned.


* Diane Studer, founder of Soles for Jesus, with some children.


Beautiful children. Absolutely precious. You do see very dirty tattered clothes, flies on faces, runny noses and such, but their sweet faces and personalities outshine it all. I remember at one point holding one of the children and feeling her little heart beat. It was the same heartbeat I feel when I cuddle my own children. It's no different. These are people like us. We're all human and we are all deeply loved by the one true God. If my birth location had been different, how easily could this have been my own child. 




* This shy little girl (below, with the dolphin sticker) came up near me and when I patted her shoulder she took a step closer inviting more contact. Her name in English means 'Freedom'. We immediately had a special bond and both days we were in Korah she held me hand and kissed my hand any chance she got.








After a while we began to walk down a dirt street to the Alert Leprosy hospital. (a really amazing and sad history of Korah and ALERT). The patients were away having their lunch so we visited the shop. The people take wool from sheep and weave amazing cloth to sell to provide for themselves.
* A man stitching outside ALERT


* A woman stitching inside one of the rooms at ALERT










* Joe, Aki and another man (forgot his name, sorry!) hanging out while we women shop the fabrics made by the ALERT residents – Beautiful craftsmanship!




After we bought some fabric and had our box lunch under a carport in the shade we heard that the women were back from their lunch and wanted to show us what they were working on. So we walked on the other side of the red metal building on the righthand side of this picture into a small metal building where some women were making yarn out
of sheared wool. They wanted us to try to do it and I tried 2x – it's a lot trickier than they make it look. We sang Amazing Grace to these women (maybe 7 women?) and then Diane asked them if they knew Jesus. A few of the women we were standing responded that they didn't (Aki, our translator was with us too). It surprised us because there are mission groups that visit quite often. Diane explained who Jesus was and that his offer of salvation is an easy gift to accept. One woman started to weep a little. The woman that was speaking to us said she wanted to accept him. So, with Diane and Aki's prayer the women asked for Jesus to be in their lives. Diane explained that we are sisters in Christ and we walked around to each individual women and hugged and kissed their cheeks in the traditional manner (which is very affectionate). The women smiled and the weeping woman was wiping her tears. Diane asked if there is a church for them to attend, but Aki explained that there isn't a church for them to attend. It really struck me how much these women wanted to go to church, but didn't even have the option. How easily we take the chance to go to church in America. How desperate people around the world are to attend church, but many people in the world are not even allowed to own a bible for fear of imprisonment of governmental/religious persecution. The freedom we have in America is like no where else and how often we take it for granted. As we walked out of that little shed/building I started crying because these women were so desperate for human touch and love. That they also have no ability to be fed the word of God as we so easily have at home.








Our day already seemed like 2 full days packed in one, but we were to be blessed by more. Our group split into two and we went into 2 different homes for a traditional coffee ceremony. My group went to a lady's humble home. Her name was Amsalah (I am guessing at the spelling). She welcomed us into her humble little home. We crowded together to fit on the floor. A bed behind us  and a small shelf on the other side. This was her entire home. Her 13 year old (somewhere at that age) daughter helped her prepare the coffee. Kids peeked at us from outside as we sat in her home. She quietly started some coals on fire and with a small tin put some green coffee beans on. She stirred them frequently as they slowly browned. We were sitting so close to her fire that the legs of the girls sitting in that area were getting quite warm. Her floor was put together with pieces of old vinyl flooring, presumably scraps found elsewhere or at the city dump. The walls were dirt/straw (or some combination of the sort).
How happily she welcomed us into her home. How often to we, especially women in America, frown upon the homes we have. Our home may be 'too small', 'too dirty' or 'not as nice as some homes'. We won't allow people over unless we have cleaned and prepped our home. Only the closest of family or friends may see our true dwelling – messes and all (sometimes not anyone).


*Amsalah preparing the coffee


We sipped our two espresso-sized coffees (she made us coffee two times, the older tradition is 3 times) and Diane asked Amsalah if there was anything we could pray for her. Her cheery face quickly turned sad. Tears began to gather as she explained that her disabled husband (motioning that his leg was cut off) and her sleep on the only bed in the hut. Her children sleep on a piece of cardboard on the floor. That same patched vinyl floor you see in the photo above. She was praying for a larger home so that her children could have a bed. Many of these people live on $2 or less a day. An entire family on $2 or less a day. As we prayed to God tears dripped off my face. To imagine my own children having to sleep on a chilly (it gets quite chilly at night in Africa) hard floor. No cozy pajamas or puffy sleeping bags or pillows. No heated home. This is extreme poverty and so many of us ,because we aren't faced with it, can be blissfully unaware. We spend more on a fancy coffee than they do in an entire day for an entire family.
* me crushing the coffee beans. You can view a short video of this time in Amsalah's home on vimeo.



* our friends sitting just outside the door – I believe these were the two men who spoke and said they grew up in Korah and now are part of the Great Hope Christian church in Korah


As we hugged Amsalah (there is something extremely bonding about praying with someone) we walked out of her home and immediately to the right were introduced to a boy who had just come down from the countryside. Due to an injury or infection he was blinded recently. His older sister cried in the doorway. We held his hand and one of men with us explained his story. He never flinched or responded to our speech or touch. His left eye was pussy and swollen shut. His right eye was had white spots in the lens. As we prayed for healing over this precious child we laid our hands on him. Again, for the third time that day tears easily flowed from my heart and eyes. Oh, how we so badly wished we could see him healed. This child stuck in our minds the entire rest of the trip and I know many of us prayed over and over again for him through the trip. It was heartbreaking. We discussed giving money to someone to take him to a clinic, but money does not always get to where it needs to be. There is a clinic with a ministry in Korah and our prayer is that he would receive care there. It was a very difficult situation for all of us.


Right after this we walked across the street to the Mission Ethiopia area. Mission Ethiopia's statement is, " to provide dignity by empowering at-risk individuals in Ethiopia with a sustainable job that allows them to glorify God by working and provide for themselves and their families with the fruit of that labor. We impact the cause of the orphan by serving to keep families intact, care for the children who are currently orphaned, and connect others with the very real need in Ethiopia." Women with HIV/Aids, Leprosy, TB (and all in extreme poverty) are taught how to roll paper into beads and sell them. Aki explained that women who came to work with Mission Ethiopia came to know Christ while working there. Christ is the greatest gift any of us can receive. One of the walls had writing, "I love you Tayiku". Aki explained that this child, Tayiku, had been adopted from Korah.


We were treated to lovely singing by the women working. We sang, Amazing Grace, to them and once we were finished they began singing a song I call, "Hallelujah". As they began singing they stood up and clapped to the song. Then the bench was moved aside. Then the jumping and dancing. The ululation (the trill by the tongue during happy times) filled the air. The worshipful sweeping of the arms in front of the body. The power of their singing was stunning. The holy spirit was without a doubt in that room. Tears again covered my face. These women, with so little, find joy in their savior. To have so little, but to know they have so much in Christ. Aki translated that the song is about God outstretching his hand to save them (us) and all they (we) can say is 'Hallelujah'. That is absolutely true.
Later on that evening we all commented how if our little videocameras hadn't been on, we wished we could've jumped in with them. I've listened to this song many times since that afternoon and it moves me each time. They blessed us with that song.
Ways you can help…
Past posts about Ethiopia…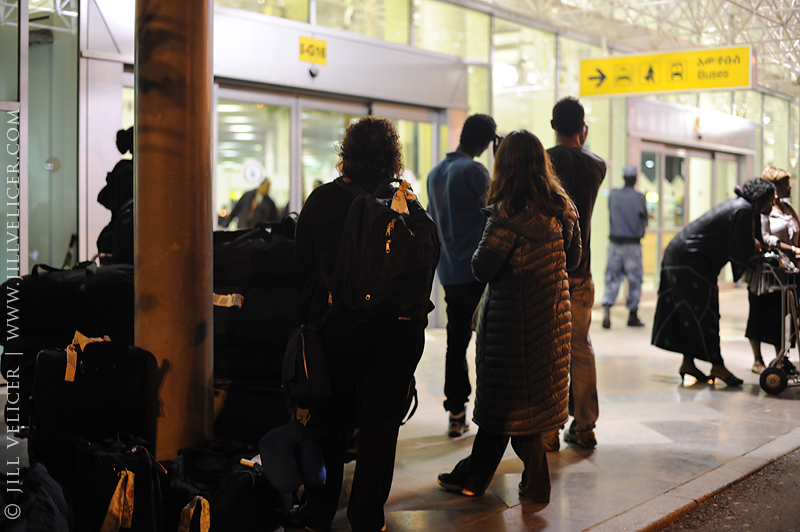 Jill is a professional photographer specializing in newborn, birth, maternity, baby and family photography in the Greater Milwaukee and surrounding Wisconsin areas.