* This is a personal blog series about my time in Ethiopia. Some photos are snapshots and are included to tell the story. If you are looking  to view newborn, baby or family posts, please see the drop-down 'Galleries' on the toolbar above. Thank you!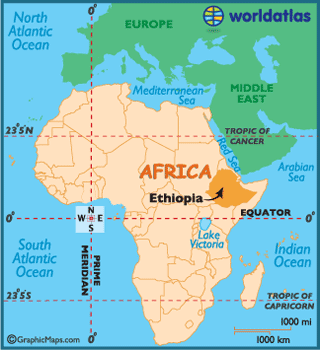 Wednesday, January 25th our team from Soles for Jesus boarded planes in Milwaukee and Virginia (meeting two of our team members in Detroit) and continued on to Amsterdam – Sudan – and finally to Addis Ababa, Ethiopia. We arrived knowing that customs was likely to give us trouble with our 13 duffle bags of shoes. They had been confiscating these bags from other groups and charging special fees in order for the groups to get them back. We prayed for weeks before we left hoping we would be able to get through with the shoes in order to give them to the needy – the main purpose of the mission. If you're unfamiliar with Soles for Jesus, a great video explaining the mission can be viewed on the Soles for Jesus website.
After quite a long wait to get our visa's (it's now about 9:30pm on Thursday night) we get our luggage and go through the scanners. Most of us get through with our duffle bags, but as my group of 4 goes through a man begins to tell us to put our luggage aside. Some of the ladies who have been on this trip before tell the others of us to try to get out of the area before our bags are really in their hands. I get to the group that has already gone through the scanners and we decide to grab everything and make a break for it out of the airport. I had been dealing with some pretty heavy plane nausea but the adrenaline from rushing out of the airport cured me pretty quickly. We knew a few of the girls from our team (and our leader, Diane) were back by the man trying to keep our bags so we were waiting outside of the doors of the airport hoping they would get the rest of the bags. These shoes are for people in such extreme poverty that they have no shoes or shoes that are too small/too big or  literally falling apart.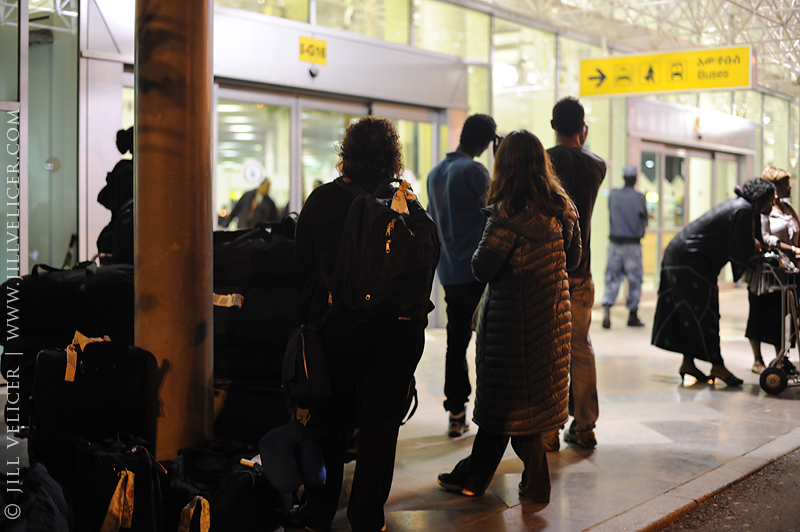 *waiting outside the airport doors praying the last of the bags get through and that we're not asked back in.
After a tense number of minutes and all of us silently saying prayers, we see the rest of our team coming – with the bags. Big sigh of relief! I believe Diane said something like, "Please be kind" to the man trying to keep our bags and he waved them through. Keeping the duffles isn't a matter of security or breaking any Ethiopian laws… it's a way to make more money for the government.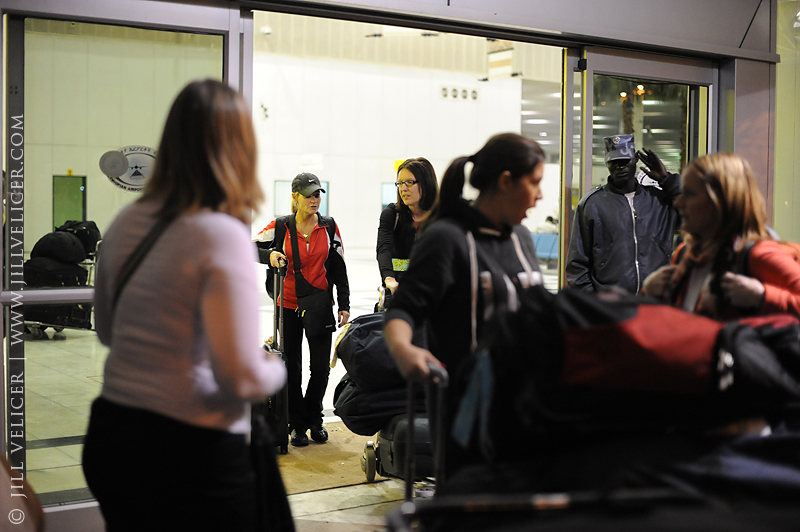 * Diane and Julie exiting with the last of the bags.

Thankful to God for getting us through this, we met our interpreter, Aki, and his friend from Nebraska, Joe. Aki is a trusted friend and interpreter that our team has come to love and specifically hire when in Ethiopia. He's worth every penny and more. We made our way to the two vans in the parking lot and the duffles were secured to the top of the vans. We waited a while for our friend to submit a lost luggage report (I think some items still in Amsterdam that didn't make it to Ethiopia) but after a while we were on our way to the guest house.


As we drove into Addis Ababa it was dark. There really aren't many street lights, so it is dark. Plenty of dogs roam the area at night. We have 2 dog lovers on our team ( Caryn, who spent time in New Orleans doing dog rescue after Hurricane Katrina and Edie, who runs a dog sitting business), so these two girls wanted to jump out and rescue them. There is a scent to Addis Ababa that we were introduced to. It's sort of hard to describe, but as one lady said, "I'll never forget the scent of Ethiopia". Very true. As we drove through the city I remember thinking we must be driving through the bad part of town. It looked run down, dirty, and from a little town in Wisconsin… it could be a bit scary. I figured we'd enter the nicer side of town for our guest house, but the 'run down' part of addis ababa that I was seeing actually was pretty much the nicer side of town. It was late by the time we get to our guest home. The guest home has 3 levels and my group of 5 sleeps on the 3rd floor. So after getting our luggage up, taking some quick snapshots before messing up the room and then crashing for the night. We'll be waking up in the morning to begin our first day of ministry. We're all excited and about 9 hours ahead of our normal time zone, so after a while we fall asleep as best as we can. Thank you, God, we're here! Tomorrow begins our first day in Ethiopia…




*Jill is a professional photographer specializing in maternity, birth, newborn, baby, child and family fine art photography serving the Greater Milwaukee, Wisconsin area.